Article from Aiden McKinley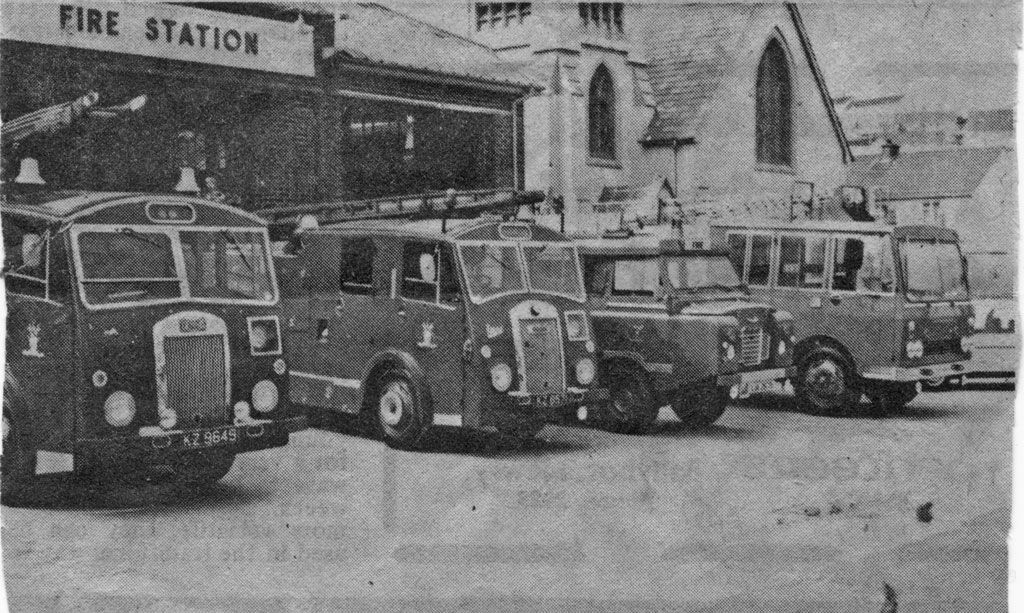 ---
Just out of curiosity I ran the registration of the F12 (bottom photo on the left) through a classic vehicle site, and was able to find this:
1953 Dennis F12 Fire Engine, engine number 209WIB80E20C Chassis number 3819 F12 was sold on the 18th of September 1995 at Sothebys for £3450
---
Member

Posts: 860
Joined: Thu Jun 12, 2008 6:31 pm
My real name: Ged McKinley
Location: Warrenpoint
I remember that day that appliance arrived, everybody well and truly excited, not many in the north in those days, nice to see all the 4 pumps in a single picture... Thanks for sharing, and great investigative work Brian, I though you were going to tell us where it is now, along with the Ulster. I think this appliance arrived in 1983, possibily May time, not sure, just a wild guess.
It would be nice to see them back in the Point, just for a wee visit, down memory lane..
---
http://www.fire-engine-photos.com/pictu ... r11088.asp
At least we know that the F12 was still here in the 80's before she went to England. But apart from a few internet mentions regarding the above mentioned auction, I can't find out any more info. Surely it must be out there somewhere?
---
Member

Posts: 3
Joined: Mon Sep 23, 2013 6:21 pm
The 1979 Bedford, OIA 4344 was only the second of this type to enter service, the first being something of a prototype was delivered earlier in the year and went to Cookstown. A total of 50 were bought between 1979 and 1983 with a further 20 on the longer wheelbase Bedford chassis between 1983 and 1987 plus the two "big" ET's in 1984.

The Dennis F12 KZ 9649 was last seen at Truckfest, Scotland in 2012. A friend checked its status with the DVLA and it was taxed until the end of August 2013. So, there's a good chance its still out there somewhere.

The L4P LIA 2675 was last reported to be with Premier Foods in Stafford, England being used by their onsite fire team.

Hope this is of interest.

David.
---
Thanks David, yes we had tracked down both the F12 and the L4P and have been in communication with the owners and are awaiting replies. I have photographs of the F12 that were sent to me at the start of the year but we believe she changed hands the very morning we found her
Talks (as they say) are continuing.
---