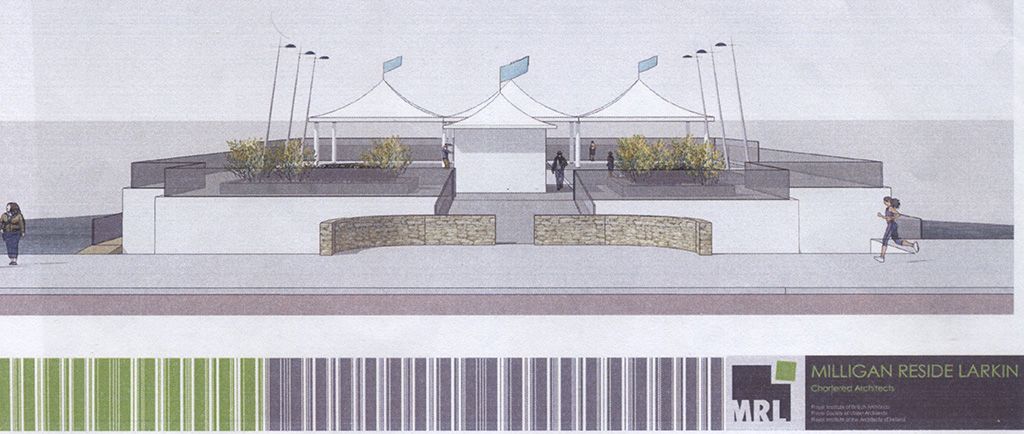 UPDATE 08-03-14 - Scroll down for updates
Just to bring things up to date following last week Newry Reporter article about the baths. Back in 2012 a small committee was formed with the aim of hopefully getting some movement on the baths site, I was asked to come along and give my input as well as representatives of the Chamber of commerce, East coast adventure, and Newry and Mourne council.
As many such meetings had already taken place the general consensus already was that it was time something was done, however to proceed some form of idea or concept would need to be put forward of what could be done with the site before any applications for funding could be sought. After a succession of meetings the draft concept drawings you see here were put forward by the architect after discussions with those present.
I won't bore you with the details and subsequent discussions but it was agreed that these plans were pretty close to the ideas the committee had, and would be a way of making the site a sustainable and useable area that could (if funds could be found) be returned to its original function in the future. All work that would be carried out would not damage the existing base, but simply allow it to be used in the interim.
Further meetings will now be held to ascertain how these plans can be implemented, what other improvements or additions can be made and to seek funding from whatever sources to allow the concept you see here to maybe become reality.
The general idea is that it will be a split level building with some form of retail area on the lower levels – possible uses would be seaweed baths or sauna/Jacuzzi type health spas, coffee shop and the like. The upper area would be a civic space, almost if you will an extension on the original plans to allow open air concerts or events to be held on the "upper deck" Windbreaks and shelter would be built in and I suppose it could become a "mini pier"
We are not under any illusions, we have been here before, plans have been drawn up and ideas put forwards usually to fall due to lack of funding; however it is our belief that this particular concept could be done and as such can only hope that in the future the plans you see here will become reality.
Please remember these are the architects CONCEPT drawings, and are not in any way a final approved plan or indeed have even been sent for planning yet and already ideas and design changes have been put forward, I felt though it would be nice to let people know that there is work going on behind the scenes and not everyone has given up hope for the old girl to be given a new lease of life
Also, please note that full consultation will be provided throughout the process once this stage of concept design and costing has been achieved and the concept design is based on a future proof facility, (in other words, what the public will use)