The Windmill (from the old forum)
Posted: Mon May 14, 2007 10:59 am
From the old forum, original post by ??
I never knew that there had been a windmill in the Point until a few years ago when I saw one in an old picture. It was on the east side of the square and apparently some ruins remain.
I did a little digging around and found a few references which may be of interest.
Bradshaw's Directory 1820
The wind-mill, built by Mr. Robert Turner, is a very
valuable concern; the machinery, (a large propor-
tion of which is of cast metal,) having been con-
structed on the most approved plan.
Samuel Lewis Topographical Dictionary of Ireland 1837
In the town is a very large distillery, and near it a windmill constructed according to the most approved principles, to which a steam-engine is attached for working the machinery in calm weather; in addition to its practical value, this building forms a striking feature in the landscape when viewed from some distance.
As to when it ceased operation, I have no idea. Perhaps the Historical group would have some more info.
Admin
Yep, the windmill is still in behind Annett's (Mathers) shop, and you can access it via the laneway behind Eurospar, and that in itself is an experience Shocked It's like a little community up there now, with kitchens and stores... Anyway when you walk up the lane, to your left near the top you can see this.
click to enlarge
and how it used to look: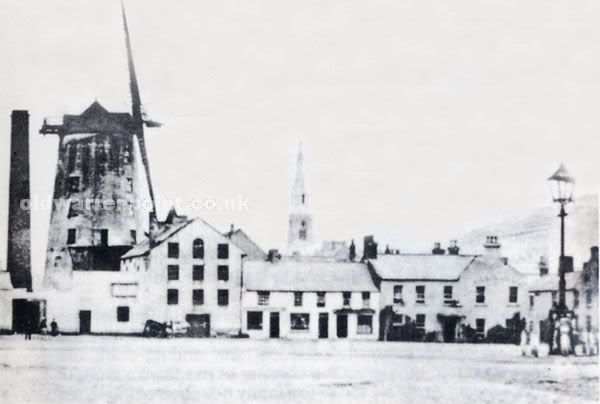 click to enlarge
It's (as far as i know) still owned by the Annett's.
dukestreet
When I worked for Mather's, in 1960-62, the hens were kept up there on the second floor, and part of my job was to collect the fresh eggs daily.
I am sure St. Louis Guy would be interested in the story about 'Spudio' Hosier and I having to clean the hen boxes out. It was not a very pleasant task,but it was one of the funniest things that I was priveledged to see. Sheer madness, Knowing 'Spudio' was a laugh a day, you really did not know what was going to happen next.
coolbawn
I could be wrong here but when i worked in the Geona in the late 60s early 70s part of the windmill was in franks yard, i worked along with John Magee (brain of Britan) and a man called Micky mathers always smoked the pipe,gosh were does time go.
dukestreet
You are correct there Nabs, part of the Old Windmill was in Frank Magliocca's back yard. You forgot to mention your old mate Mick McGoldrick, he was a valued member of the Genoa backroom staff.
I don't remember that man Mathers though.
StLouisGuy
Thanks to all of you for the info. I guess was leading a sheltered life. Now Spudio cleaning out the henboxes, that does conjure up some wild scenes, Very Happy . Did the hens survive? I am surprised that the mill ruins survived. Ah Spudio, what a gem!
coolbawn[i/]

Mick McGoldrick thats right Hugh you know i could never understand a word he was saying though we always ended up laughing. The back room staff as we were you are right Hugh, i then got the chance to work in the shop after we finished peeling the spuds, some crack there remember the two McGuinness sisters Vera and Francis they worked there as well on saturdays and sundays and Florie Irwin.