Dude
Very Happy Thanks very much for putting this in. It is very nice to see a photo of my Great Grandfather. I think there is a better copy of this floating about somewhere. I was told that my Great Grandfather was a rather important man in those days, a council man and a well to do business man he was that important that he just might have opened the shop officially.
Dont really know how true this is, it just might be family history getting slightly changed over the years.
Just for your information this photo I am led to believe was taken around the 1930's and the McGuigan in it is Tommy McGuigan (who was my great grandfather) and not Paddy (Cody) McGuigan who was Chrisys grandfather.
Hope this helps to stir things up. All us McGuigans are well contected you know and it is easy to mix us up.
Admin
I have seen that picture before, however I was led to believe that it was actually outside the cosmopolitan? and not the Genoa? I'll see if I can get more info either way And I'll have a go at cleaning that up later.
Dude
Dont start confusing things any more than they are. I have just consulted with the family history book and all i said before seems to be true.
Admin
This is what this site is all about getting things sorted out before there is nobody around to correct any mistakes we may make, so as future generations can marvel at our quaint ways I am not disputing anything already mentioned here at all i am simply adding my 10p's worth, and for that 10p you get to see this photograph here: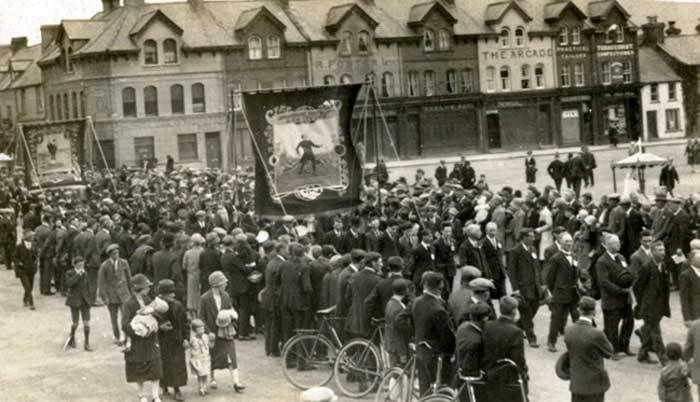 click to enlarge
that shows an AOH march in the Square circa 1928, and the Genoa is not there.
That picture as far as I know came from Jim O'Neils sister via Pat McGivern. One sure way of finding out though, I can ask Thomas Mallocca next time I see him, as I was also told that was his father (or grandfather in the middel of the two men) Cool
anybody else anything to chuck into the pot? I am sure between us we can crack this one
dukestreet
I can only offer the information I received from Harry Smith, when he gave it to me. I never saw the photograph before, and only I was told were it was I would not have a clue.
I would dearly love to know the names of the other people in the photo, I think I could hazard a guess that going L-R the second and fourth persons are members of the Magliocca ( Malocca) family.
Dude
I would agree with your photo Admin that it was 1928 and the shop is not there. As I said above the photo was taken around the 1930's hence no shop before that date. I had a family history lesson yesterday afternoon with four of my elders and this photo came up in the middle of it. The McGuigan side of the family claim that this was my Great Grandfater and that it was the official opening of the shop in its current location believe it or not. Too much info was being fed out for my little circuits to hold but dukestreet I do know a person within the family that seems to know most if not all of the names of the peole in the photo. When I run into them again I will write down the names and post it on the site.Sorry I did not reply sooner but too busy over Easter.
Dude
By the way I might be able to get a better copy than this for the site as a good copy is hanging up on my dad's wall
Admin
Dude wrote:
By the way I might be able to get a better copy than this for the site as a good copy is hanging up on my dad's wall
Now he tells me, after i spent some time fixing it
Admin
And so the debate of is it the genoa or is it the cosmo rolls on.....
the mystery deepens
dukestreet
Apologies. You guys are right it is the Cosmo, I was misinformed badly, the photographic evidence is overwhelming. Wait until I see that Harry Smythe.