Admin
Ah yes, Mrs English lived in east street, and my mum remembers playing piano with her daughter Maureen, (an only child) who unfortunately died of leukaemia at a young age. You can make out the letters LAN in that picture, of course the last part of the name "Boylan" as that was Dougie and Raymond Boylan's pub before they went round to the Balmoral. It was called the "Yankee Bar" before that, (owned I am told by a "yank") and I can remember many days ago overhearing people saying they were going to the "yanks" for a pint, this confused me as I has no idea where the "yanks" was
dukestreet
That is quite correct, Maureen English was only about 17 or 18 when she died, I think that would have been about 1959. I can remember her playing the piano, a lot of people had pianos in their front room, remember there was not a lot of tv's around. Her father worked on Kelly's Quay, he appeared to be a very quiet, but a pleasant man.
When we lived in Duke St. in the early '50's this public house was owned by the Connolly family, I think they may have been relatives of the Gallagher's (Pointman).
Clare Connolly now lives in Great Georges St. North.
A man named Kearney, who spent some time in America, but was originally from Cabra bought this place in about 1956/57, he sold it a couple of years later to a man by the name of Paddy Morgan, another returned Yank. He had a reputation as a tough guy, he was reputed to have been in the US Marines, he always puffing on a a cigar. I kept in his good books just in case.I do believe he was the man who named it The Yankee Bar, it was designed with stars and stripes, and painted red white and blue. It was very colourful and quite a novelty for the time, very few females visited pubs in those days, therefore landlords didn't bother to much with nicely painted surroundings.
By about 1968 an English couple, Gordon and Ivy Madison were the new hosts, I remember there was a swear box on the counter, it always appeared to be full. They had a stunner of a daughter named Pauline, they moved to Newtownards after a couple of years.
Peter Dynes from Armagh, I think, was the new landlord, he stayed until about 1973 and then the Boylan brothers took over. They decamped to the Balmoral by the late 1970's, maybe Duggie Boylan may have stayed on in Duke St. for another few years. I am not sure how long the present owners are there from.
nkrumah
I met Kearney (John I think) sometime in the 1960s when I was signing in to the Youth Hostel in Newcastle and he was the warden and asked about my address in the 'Point, and explained that he was the Yank. Yes, he was a tough looking oul man. How did he go from owing a pub to YH warden,?, maybe just retired.
The second Yank was a fairly short, roundish gent with a hat, presumably bald underneath since he never took it off outside at least. I think he was the one with the constant cigar. He didn't look ex uS Marine like, that must have been Kearney.
StLouisGuy
Hugh:
Maureen was a very sweet and pretty girl. I remember her well and how the treatment for the leukaemia was rough on her but she still had a smile on her face for people. You mentioned the Boylans. Now I don't know if she was related but there was a Collette Boylan about 18 or so who also died from leukaemia in the early 60's.
dukestreet
Maureen English was a nice person during her short life on earth, and every thing you say is true Pat.
Collette Boylan died in 1963 aged about 16, I think she was in the pantomime earlier that year, as a Fairy princess.
She was a daughter of Joe Boylan the rent man, later he went to work for Joey Smith's Bottling Store as a rep. To spend an hour or so in Joe Boylan's company, is a treat, as he would regale the company with some great yarns about Warrenpoint's illustrious characters from years gone by.
He is about 85 now and still sharp as a tack, long may he continue to reign.
Did you not go to school with Raymond Boylan?
The Boylan family now own the Balmoral Hotel. They lived around the corner from your family in Slieve Foy Place, before they moved to Mourne Drive.
StLouisGuy
Ny brother, Gerry, went to school with him. I remember the Boylans especially Mr. Boylan. He was a true gentleman and when I heard that Collette has died, I can remember thinking how hard it must have been on him.
I am glad to hear that he is still well and would appreciate it if you could tell him that I was asking about him. I don't know if he would remember me but he would probably remember the family.
See if you can get him on here with you sometime to share his stories and knowledge. Now, wouldn't that be great?
dukestreet
Actually Pat your brother Gerry went to school with Paul Boylan (the original Plum) who now lives in Nova Scotia or Newfoundland. Raymond Boylan is about 61 or 62.
I have a photo of our year outside St. Peters after receiving our First Holy Communion, Gerry is in it and so is Paul Boylan. The date is on the photo, and it is June 1956. Your mother is in the photo, I will post it on to this site soon.
Last year The Pantomime Club produced a brochure about the history of the Panto, Joe Boylan was interviewed, and he told a terrific yarn about his time in the Panto. I will try and post that as well.
I was invited to help with the brochure, I spent a bit of time up in Newry Library researching the local papers for items, and I found a cast line-up for 1958/59 and you featured as a Herald.
Admin
My mother gave me this rare photograph of herself and the late Maureen English in the town hall Warrenpoint, receiving their Feis medals for piano duet from Mr Turner the adjudicator.
Left to right, Mr Turner, Glynis McCabe and Maureen English.
My mother thinks they were about 10 years old or so at the time.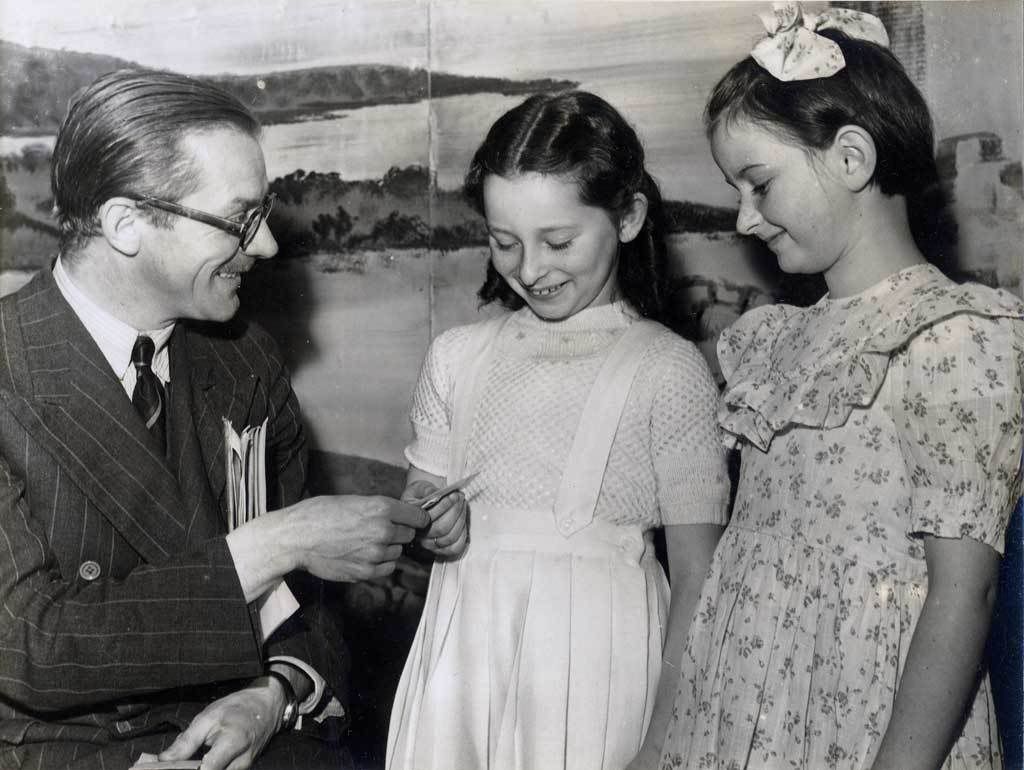 StLouisGuy
Ah yes, Hugh, my stage career! Cool I did appear as the Herald (my big mouth). I would love to see that photo of Gerry and my mother, thank you. Raymond looks like about two or three years younger than me.
Beautiful pic there, Brian, of your mum and Maureen.
nkrumah
One of the Boylans was a teacher at Memorial University Newfoundland, and had a website with Point pictures way back ten years ago, pre Google.
Which I found very slowly (pre cable modems), by searching for Warrenpont, Don't remember how
Possibly retired or moved on now
"When will the TV be fixed?"