The following is a transcript of the inaugural document of Warrenpoint INF. The initials after the names of the officials have no meaning for me-perhaps an INF member could explain them?
"St. Peter's Hall, Warrenpoint. 16th March 1902
The formal opening of this branch took place in above hall, on this date. The branch was opened by Bro A. McAleavey of the Father Matthew Branch, Rostrevor.
The following were initiated:
Wm. Campbell; James McCaughey; Luke Carr; Hugh Smith; Thos Hanna; John Murdock; Francis Carvill; Wm.Byrne; James Macrell; Wm. McAnulty; Terence O'Neill; Peter McGivern; George McAteer; Edward McGivern; John Carney; James Ruddy; Patrick O'Hagan; Michael O'Hagan; Terence McAnulty; James McGeown; Daniel McAnulty.
The following were appointed officers:-
Terence O'Neill C.R. William Campbell S.C.R.
Peter McGivern Treasurer George McAteer Secretary
Thomas Hanna S.W. Francis Carvill J.W.
Hugh Smith S.B. James McCaughey J.B.
Signed R Crawford Sec.
Bro John R. McKernan C.R."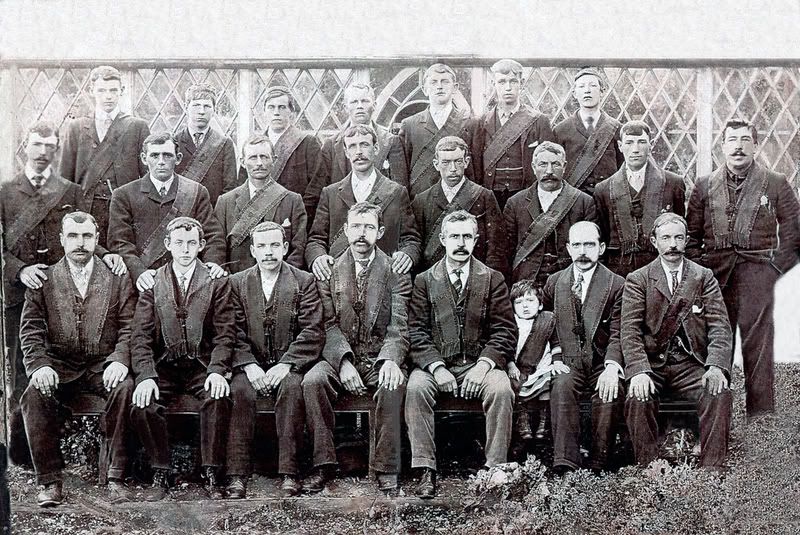 Back row: 1 & 2 unknown; 3-Peter Grant; 4 unknown; 5-Thomas McGivern; 6-Harry Smith 7-Hugh Carr
Middle row: 1 Frank Carvill; 2 & 3 unknown; 4-Thomas Hanna; 5 ??McAteer; 6,7,&8 unknown
Front row: 1 unknown; 2-Peter McGivern; 3 unknown; 4-Patrick McCaughey; 5 unknown 6-Richard Edgar & child Jimmy Edgar; 7- George McAteer
An early photo of the Heart of Erin branch, with some names. It would be reasonable to assume that there are some of the inaugural members in this pic also. Does anyone recognise them as ancestors?